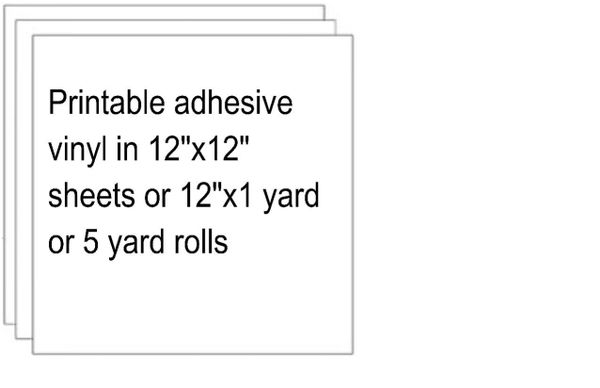 Printable Adhesive vinyl is a 6 mil, calendared vinyl with a permanent pressure sensitive adhesive. This vinyl material is specially designed for use with your pigmented inks for instant drying times, water resistance and superior image color. It is ideal for your durable, long-term mounted poster or sign applications. Can be used indoor or outdoors. Has a non-glare matte surface that can handle higher ink loads.
6 mil (w/liner), calendared vinyl material
Permanent pressure sensitive adhesive backing
Bright white, opaque color base
Matte, non-glare finish
Flexible, durable and tear resistant
Water resistant when used with pigmented inks
Can be used with dye or pigment inks
Great color and sharp images
Ideal for your indoor or outdoor durable, mounted signs and posters
DOES NOT INCLUDE A PROTECTIVE SHEET.

 The protective sheet will extend the life of the printed material.  Protective sheet sold separately.