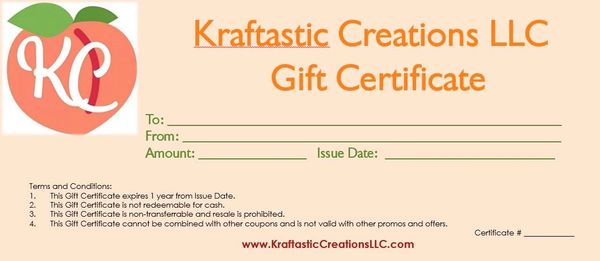 Don't have the time to look everywhere for that right gift?  Do you wait until the last moment to shop?  Need a perfect gift in a hurry?
We've got you covered!
Giving a Gift Card saves you time, and allows your favorite person to choose their own gifts! 
You CAN'T go wrong! 
A message can be added to your Gift Certificate!

Gift Card is all inclusive, merchandise, shipping, upgrades. It is like cash!
<<< PLEASE READ >>> 
TO REDEEM CERTIFICATE (instructions will be provided to recipient):
1) Browse items on www.KraftasticCreationsLLC.com
2) Once recipient has chosen item(s) for purchase, click "Got Coupon Code" and reference your gift certificate number and items for purchase. (a minimum purchase equal to the amount of the gift certificate is required)
3) Your cart will the reflect the price minus the total credit amount.
4) Sales Tax and Shipping may still apply if certificate amount is less than or equal to item(s) amount.
5) Questions? Feel free to contact us at KraftasticCreations@gmail.com
TERMS AND CONDITIONS:
1. Gift certificate expires 1 year after issue date.
2. Gift certificate is not redeemable for cash.
3. Gift certificate is non-transferable and resale is prohibited.
4. Gift certificate cannot be combined with other coupons and is not valid with other promos and offers.
------------------------------------------
TWO DELIVERY OPTIONS:
1) Email
• Will be emailed to you or recipient within 24 hours
• Print out at home
* Must include intended email address 
2) Snail Mail
• Ships Free
• Takes 3-7 business days
* Must include mailing address in "Notes to Seller"
------------------------------------------
Also, in "Notes to Seller", please include the following:
To:
From:
Personal Note (optional):